Halloween in a manor at Paris
octobre 29, 2016 @ 7:30

-

5:00

Gratuit

update : if there is no more ticket at the end of this page or if it's full in the club, members of socializus.com website get a priority for the entrance. According to the success of the party we strongly recommend to everybody to come early and also before 8 pm. It is the best to get all party advantage 🙂
Hello socializers 🙂
We are proud to build a manor in Paris. It will be AWESOME !!!  Last year was amazing with almost 500 attendees in a flat, so now we have decided to go beyond and we have created a manor inside a Paris club!! On this occasion, we spent 3,000€ in order to rent and transform one of the most famous clubs in Paris called « Palais Maillot ».
In order to celebrate the beginning of socializus.com you will get :
▄▄▄▄▄▄▄▄▄▄ •★• FREE BUFFET •★• ▄▄▄▄▄▄▄▄▄▄
300 people, it's not just a small meal with some friends
Come early for an amazing free buffet in order to test all kinds of french flavors

▄▄▄▄▄▄▄▄▄▄ •★•  FREE ENTRANCE* •★• ▄▄▄▄▄▄▄▄▄▄
The idea is to share so before 8:30 with a pass and your makeup,
you will be a part of the biggest monster factory in Paris
Extra time until 10pm for girls only, who have an account with a profile picture from socializus.com
Just show the screenshot at the entrance or an RSVP ticket available at the end of this page
▄▄▄▄▄▄▄▄▄▄ •★• 100 FREE DRINKS •★• ▄▄▄▄▄▄▄▄▄▄
Do you like bubbly? Do you prefer a bottle or a glass of bubbly?
All internationals, expat and Erasmus, au pairs and locals have been invited to celebrate with us
If you bring your community, you get a bottle of bubbly for every 8 people you bring!!!
★•  ALSO A GAME TO GET A FREE GLASS OF BUBBLY  •★•
WE WANT YOU TO SOCIALISE !
As you know, we are proud to reinvent a game for socialising with all attendees. Find the number ! Every attendee will get a number and badge with their country flag, if you find the same number, you get a free glass of bubbly, if you find the same flag, you will be able to make a team and every 8 people from the same country get a free bottle!!! Don't miss it and reserve your spot because it will be by guestlist only, or you have to book on our website socializus 😉
If you have any trouble getting a ticket, just bring a screenshot of your profile picture from our website and it will be ok 🙂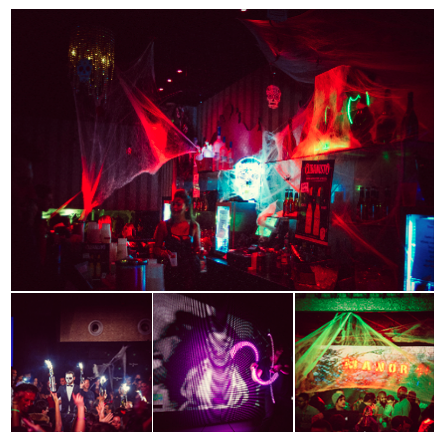 Dare to enter the spooky haunted mansion of mystery close to the Champs Elysées, this haunted manor will be a new kind of party for socialising in Paris. You'll finally get the chance to relive the thrill with a giant spider, a glowing ghost, 2 big rats waiting to scare you and much more!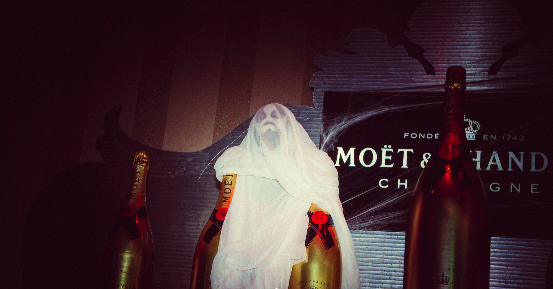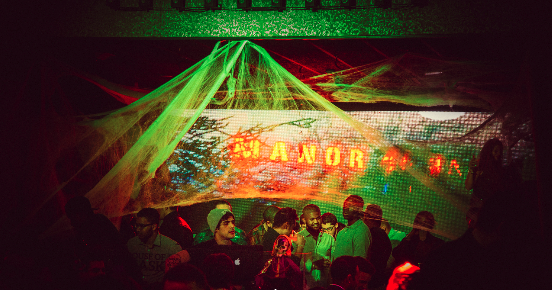 We've figured out a way to invite everyone to a Halloween night out FOR FREE 🙂
▄▄▄▄▄▄▄▄▄▄ •★•  HOW IT COULD BE FREE ? ▄▄▄▄▄▄▄▄▄▄ •★•
So let everyone be co-organizers !
The rule is simple : Invite your friends to join our website socializus to help us to grow the community (while having fun),
Invite them all to help with our make-up stands and that's all!

Everyone can pitch in and bring a little something as simple as a makeup item or a pumpkin, or other props.
Add your friends to our facebook group, so that we can talk about this before the big day to make sure everything is well-prepared! In exchange, everyone who helps out can go to the event for free before 20:30, just show your profile picture from socializus that's the key 🙂 So, from 7pm to 8:30pm there is free entry, a free makeup stand and workshop at the beginning so come early if you'd like to benefit from it 🙂
▀▀▀▀▀▀▀▀▀▀▀▀ •★• THE VENUE •★• ▀▀▀▀▀▀▀▀▀▀▀▀
We wanted you to show you the venue before we transform it into a dark castle :

The Party will happen in an awesome haunted mansion venue and there will be a nice friendly atmosphere where you will feel at home. The place will be fully decorated with spiderwebs, pumpkins, rats and much more! We spent almost 3,000€ on decorations in order to transform one of the most famous clubs of Paris. We will open the doors at 7:30pm for those who would like to help us with the makeup stand and so you get free entry until 8:30pm.
There will be some games to get people socialsing and having fun 😀
This party will be also a part of the biggest International Party with the support of french press and internationals communties.
We want to thanks here Paris Bouge, Weemove, le Parisien, Erasmus Paris, Erasmus in Paris, Erasmus in France, Jovenes latinos en Paris, Giovanni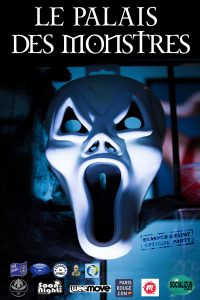 ▀▀▀▀▀▀▀▀▀▀▀ •★•THE DRESS CODE •★• ▀▀▀▀▀▀▀▀▀▀▀
Any outfit that represents halloween, day of the dead (mexican holiday), zombies, horror movies.. etc
There will be a make up stand at the beginning with a mirror, or you can do your own make up and help others do theirs.
There will also be a makeup artist to help you. So you have to come early.
▀▀▀▀▀▀▀▀▀▀▀▀▀ •★•THE CONCEPT•★• ▀▀▀▀▀▀▀▀▀▀▀▀▀
• Are you new in Paris? Would you like to meet new people in a friendly and social atmosphere with people from all over the world? .• There will be a friendly, relaxed and open-minded atmosphere, so the rule is to be sociable and interact with other people! • Bring your friends, everyone is welcome 🙂
If you don't know anyone there that's fine, you can come alone and meet people there, just join one of the groups, say hello and introduce yourself.
A video about the same kind of party we did last year 😉

▀▀▀▀▀▀▀▀▀▀▀▀ •★• LINE UP DJs •★• ▀▀▀▀▀▀▀▀▀▀▀▀
• DJ Freestylez • D-JayJay • DJ Snackwells
+ Guests All kinds of popular music will be played..
Hip Hop, Funk, Electro, House, Disco, Rock, Pop, Latino.. And many classics..
▀▀▀▀▀▀▀ •★• PRIVATE PARTY GUEST LIST ONLY •★• ▀▀▀▀▀▀▀
Everyone has to be a socializus website member in order to participate.
This party is limited to only 350 free entries so the longer you wait to sign up on this event's list, the less chance you have to be able to attend. There will be security at the entrance checking names, so if you're not on the list you wont be able to get in.
if you do not succeed with the register bouton try here or let a comment on the wall event in fb explaining who are coming with you and join us early 🙂
▀▀▀▀▀▀▀▀▀▀▀▀ •★• FEES  •★• ▀▀▀▀▀▀▀▀▀▀▀▀   
At the door payment :
7:30 pm  –> 8:30 pm : Free entrance with makeup (only badge 2€ required*)
7:30 pm –> 11:30 pm : Free entrance for girls with a screenshot of account profile picture
8:30 pm –> 10:30 pm :  5€ without drink for socializus members
11 pm –> 00:30 am : 10€ with a drink only for socializus members
00h30 am – 1 am : normal price 20€ with a drink and you miss all the party for socialising
No more entry after 1 am
Mandatory cloakroom
Drinks :
BEER : 5€
SOFT : 5€
HARD : 10€
Sex on the beach : 7€ (all night long)
Required pass from here at the door or evidence you are a socializus member.
Bring a screenshot of your account profile with a picture.
*We will ask for a 2€ fee for a badge in order to help each person build their community from various countries and languages

▄▄▄▄▄▄▄▄▄▄  •★• MEETING POINT  •★• ▄▄▄▄▄▄▄▄▄▄
Once you get to the venue make sure to say that you're a member of the socializus member, show your account screenshot picture as an evidence of that. Once you're inside, the makeup stands will be in the middle of the venue. All attendee are becoming makeup artist
IN CASE OF TROUBLE WITH YOUR REGISTRATION
DON'T HESITATE TO CONTACT OUR
INFOLINE :
▄▄▄▄▄▄▄▄▄▄ •★• PARTNERSHIP  •★• ▄▄▄▄▄▄▄▄▄▄
Thanks to all who publish and promote this amazing event:
Socializus, Erasmus Events Paris, Info Erasmus in Paris, Couchsurfing Paris, au Pairs Events Paris, International Meetup in Paris
▀▀▀▀▀▀▀▀▀▀▀▀ •★• ADDRESS•★• ▀▀▀▀▀▀▀▀▀▀▀▀
Palais Maillot built as a manor inside
2 place de la Porte Maillot
75008, Paris
Metro 1, RER C : Porte Maillot
Détails
Date :

octobre 29, 2016

Heure :

7:30 - 5:00

Prix :

Gratuit

Catégories d'évènement:

Étiquettes évènement :
Lieu
Palais Maillot

Le Palais des Congrès de Paris, 2 Place de la Porte Maillot




Paris

,

75017

France

+ Google Map

Téléphone :

Metro 1 - RER C : Porte Maillot

Site Web :